ProlaZyme

ProlaZyme is an all natural supplement aimed to enhance your digestion; the supplement is packed with enzymes, amino acids, vitamins, minerals, and more.
ProlaZyme points out that the saying "you are what you eat" may not be true and goes on to perhaps more accurately state, "you are what you digest!"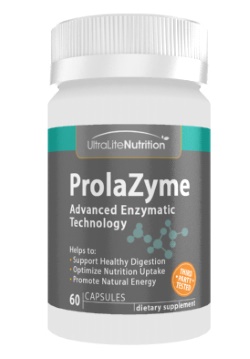 This is a great point that ProlaZyme brings up. After all, if you eat food and it passes right through your body without digesting and using the nutrients in the food, what good will it do you?
This is why many people are already using a probiotic digestion supplement. But ProlaZyme takes digestion supplements to a new level.
Aside from just the probiotic component of this supplement, you'll also find the following in ProlaZyme:
Amino Acids
Vitamins
Minerals
Fatty Acids
Antioxidants
All of these ingredients work together in harmony to boost your overall digestion levels, boost your energy, and can even ramp up your immune system. Along with these benefits, those who exercise regularly may be able to build muscle more effectively (although supplements with amino acids like Pro Muscle Fit may be more effective for specifically helping you to build muscle).
At the time of this writing it'll set you back $69 for a one month supply of ProlaZyme. At nearly $1 per capsule, ProlaZyme is not the least expensive digestion supplement on the market, but with the additional ingredients we just mentioned it may be worth it.
Since ProlaZyme is combined with vitamins, you may be able to save money by ditching your old multi-vitamin supplement and take ProlaZyme instead.
ProlaZyme Dosage
It is recommended that adults take up to two ProlaZyme tablets daily to support their holistic health.
ProlaZyme Price
Anyone who wants to buy ProlaZyme should know the price up front. At the time of this writing you can buy ProlaZyme for the following prices depending on what package you select.
1 Pack – $69
3 Pack – $177
6 Pack – $294
You won't have to pay for shipping if you live in the USA, but international shipping costs is just shy of $15.
Additionally, you can sign up for the ProlaZyme auto-ship program to save money in the long run. If you'll be taking ProlaZyme daily for many months to come you may want to consider this option. It will save you the hassle of manually ordering your ProlaZyme supplement, and you'll save money too.
This concludes the AboveTheOrangeTrees.com ProlaZyme review. You can check the companies official page to see if there has been any update on their pricing, or buy ProlaZyme today and see if you like the results. Let us know what you think!